Piercing The Veils Of Darkness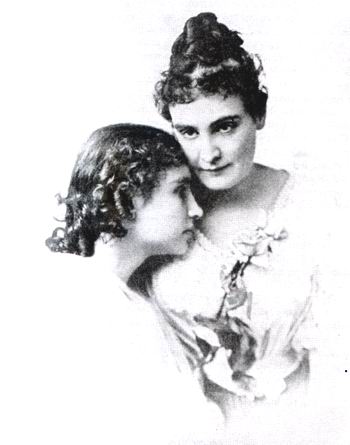 Helen Keller and Anne Sullivan
Piercing The Veils Of Darkness
312
---
Piercing The Veils Of Darkness
Piercing the Veils of Darkness
The story of Helen Keller's formative years is a wonderful example of the peculiar alchemy wrought by the coming together of perfectly matched teacher and pupil, each fulfilling the other. Anne Mansfield Sullivan was a young, aspiring teacher when she met and started working with the little blind and deaf girl who, under her awakening touch, was transmuted into one of the greatest persons of her time.
Born in 1880 in Tuscumbia, a little town in northern Alabama, USA, Helen Keller was a perfectly normal child until the age of two, when an illness permanently deprived her of sight and hearing. Her subsequent journey from this utterly silent darkness to her position as the world's first well-educated blind and deaf person is a marvellous story.
More than any other, the person who made this possible was Helen's teacher, Anne Sullivan. It is difficult to decide which of the two was more remarkable: Helen Keller, the brilliant and exemplary pupil who overcame seemingly insurmountable odds to achieve learning: or Anne Sullivan, the totally self-giving and self-effacing teacher, who for close to a decade and a half devoted every minute of her time to helping her pupil.
To understand their story, one must first understand the particular difficulty that the blind and deaf face: they have to rely solely on their sense of touch to contact the outside world. In the last century, relatively little was known of how to educate such handicapped persons and Helen Keller's achievements blazed a trail through virgin land.
Piercing The Veils Of Darkness
313
---
Piercing The Veils Of Darkness
Anne Sullivan came to Helen in 1887 when the latter was seven years old. She herself had just graduated from the Perkins Institute for the Blind in Boston, which she had joined after becoming almost totally blind at a very early age. Although her sight was later partially restored, her education in this Institute, which began at the most elementary level, gave her a unique understanding of the handicap of blindness.
She had only a few months to prepare for her work with Helen, and almost no guidance on the method to be used. Her only help was the example of Dr. Samuel Gridley Howe who, just a few years before, had succeeded in teaching language to a blind and deaf child through raised type. This pioneering work was Anne's first guide, but every subsequent step was based on her own intuitive understanding of what was best for the child in her care. She did not keep any record of her work, nor did she follow a particular method, but she learned from her task constantly, keeping the best interests of her pupil in mind. That she gave her self utterly to this task, never leaving the side of her pupil, always available to interpret and to direct, is obvious from her letters to friends and from Helen Keller's account of her education.
To start with, Miss Sullivan made contact with the child's mind through the sense of touch. Slowly Helen learned the manual alphabet by connecting words with objects. In a little while she could read and write in Braille. In a few years the child was transformed. Books became her constant companions. Soon her desire to read encompassed the most serious literature, and books had to be specially embossed for her. She developed a large correspondence and long letters were exchanged with her many friends, some of them the most eminent persons of the day. Poets and writers like John Greenleaf Whittier, Oliver Wendell Holmes and Mark Twain had but to come in contact with this radiant soul to fall in love with her. Alexander Graham Bell was from the first a guiding light in her life, watching her progress with infinite interest.
Until the age of ten Helen could communicate only with the sign language of the deaf-mute. This condition was most unsatisfactory for her and she resolved to ,learn to speak. That this was considered a near impossibility did not deter her. She was used to measuring herself by the standards of a normal person, protesting vehemently at any attempted easing of her taxing daily schedule. The only means Helen had of distinguishing the thousands of intonations that make up habitual speech was to place her hands on the lips and throat of her teacher and then do the same to herself, and try to imitate the sound. This had to be repeated hundreds of times before a satisfactory result was achieved.
The pain and heartache of this struggle is described in her own words, and the fact that she succeeded is proof of her indomitable spirit. She could not have done
Piercing The Veils Of Darkness
314
---
Piercing The Veils Of Darkness
so without her teacher. So close were they that they would seem to be one being in two bodies. Miss Sullivan describes how Helen could often "hear" sounds just by being in physical contact with her teacher, although it was indubitably proved that the child was stone-deaf.
Having learned speech, Helen decided she wished to go to college. Here too her teacher' s aid became indispensable as Helen strove to keep up with the rest of the seeing and hearing students. All the books of which embossed copies did not exist had to be read to her by Miss Sullivan. Besides English, she learned French, German, Latin and Greek. She did all her writing on a typewriter, though once having typed something she had no way to check what she had written unless someone read it out to her.
Helen graduated from Radcliffe with honours in 1904. After this she became concerned with the conditions of the blind and deaf and soon was active on the staff of the American Association for the Blind. The indefatigable energy that she had given to her own education she now spent in improving the lives of handicapped persons all over the world. She travelled extensively, met hundreds of people, charming everyone with the radiance and purity of her soul. Mark Twain said that she and Napoleon were the two most interesting characters of the nineteenth century. Her whole life was a series of attempts to do what other people do as well as they do it. That she succeeded to the fullest is in no small measure because of the unfailing support of her teacher, who was also her dearest friend and the wisest of advisors. It has verily been said that the world would not have heard of Helen Keller if Anne Sullivan had not been there.
Anne Sullivan gave the best years of her life to Helen, seldom leaving her side until her pupil had graduated from college. The principles of teaching that Anne Sullivan evolved through her association with Helen are applicable universally. The fundamental point was to draw out the innate, latent capabilities within the child, taking care not to destroy her originality in the artificial atmosphere of a classroom where lessons are "taught". One of her most strongly held beliefs was never to silence a child who asks questions. She urged everyone to talk to Helen naturally, to give her full sentences and intelligent ideas, never minding whether Helen understood or not. Similarly, she did not believe in imposing tasks and ideas that would be wearisome or distasteful. Every child is naturally curious and she believed in satisfying this curiosity and using it as a door to the child's mind. It was her genius for sensing the right approach for each situation that helped create the phenomenon of Helen Keller. Her approach remains of perennial value to all teachers of young children.
Piercing The Veils Of Darkness
315
---
Piercing The Veils Of Darkness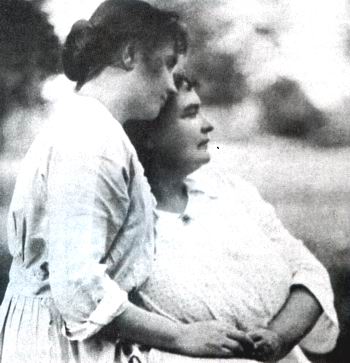 Helen Keller and Anne Sullivan
When Anne Sullivan came to Helen, she found a strong-willed, healthy child, completely spoilt, who was used to getting her own way by throwing the most violent tantrums. Her parents had been utterly at a loss in finding a way to deal with her. Almost the first thing Anne did was to separate Helen from her family and literally battle it out with the willful child until she could establish contact with her. In her own words:
Piercing The Veils Of Darkness
316
---
Piercing The Veils Of Darkness
I could do nothing with Helen in the midst of the family, who have always allowed her to do exactly as she pleased. She has tyrannized over everybody, her mother, her father, the servants... and nobody had ever seriously disputed her will... until I came.... As I began to teach her, I was beset by many difficulties. She wouldn't yield a point without contesting it to the bitter end ... I meant to go slowly... I had an idea that I could win the love and confidence of my little pupil by the same means that I should use if she could see and hear. But I soon found that I was cut off from all the usual approaches to the child's heart.... Thus it is, we study, plan and prepare ourselves for a task, and when the hour for action arrives, we find that the system we have followed with such labour and pride does not fit the occasion; and then there's nothing for us to do but rely on something within us, some innate capacity for knowing and doing, which we did not know we possessed until the hour of our great need brought it to light.1
She started to spell words into Helen's hand, and the child, thinking this a new game, learned the movements quickly without understanding the connection between things and their names. And then one day a miracle happened. The incident is described by Helen:
The morning after my teacher came she led me into her room and gave me a doll.... When I had played with it a little while, Miss Sullivan slowly spelled into my hand the word "d-o-1-1." I was at once interested in this finger play and tried to imitate it. When I finally succeeded in making the letters correctly I was flushed with childish pleasure and pride... I did not know that I was spelling a word or even that words existed; I was simply making my fingers go in monkey-like imitation. In the days that followed I learned to spell in this uncomprehending way a great many words.. .2
This went on for several days until one day...
We walked down the path to the well-house... Some one was drawing water and my teacher placed my hand under the spout. As the cool stream gushed over one hand she spelled into the other the word water, first
Piercing The Veils Of Darkness
317
---
Piercing The Veils Of Darkness
slowly, then rapidly. I stood still, my whole attention fixed upon the motions of her fingers. Suddenly I felt a misty consciousness as of . something forgotten — a thrill of returning thought; and somehow the mystery of language was revealed to me. I knew then that "w-a-t-e-r" meant the wonderful cool something that was flowing over my hand. That living word awakened my soul, gave it light, hope, joy, set it free! There were barriers still, it is true, but barriers that could in time be swept away. I left the well-house eager to learn. Everything had a name, and each name gave birth to a new thought. As we returned to the house every object which I touched seemed to quiver with life. That was because I saw everything with the strange, new sight that had come to me.3
I recall many incidents of the summer of 1887 that followed my soul's sudden awakening. I did nothing but explore with my hands and learn the name of every object that I touched; and the more I handled things and learned their names and uses, the more joyous and confident grew my sense of